Powder Horn Grill

POWDER HORN GRILL - Experience the true flavors and hospitality of the West. During the season, you are invited to experience a culinary delight at The Powder Horn Grill. Chef Patrick's talented culinary team offers mouth-watering Filet Mignon complete with Madiera Veal Jus. Or try our Wild Salmon or Steak Salad for dinner.
Join us on Wednesdays for Pasta Night, and Saturday evenings for classic herb-roasted prime rib. Also enjoy a large selection of fine wines, local beers, and spirits. Walk-ins are welcome, and reservations are always appreciated at 307-673-4800.
The dining experience is complimented with breathtaking views of the Big Horn Mountains and The Powder Horn Golf Course. Join us for a round of golf and lunch or an intimate dinner, and enjoy a fresh take on Western cuisine—always accompanied by our friendly, attentive service.
We are located at 23 Country Club Ln., Sheridan, WY 82801 in the Powder Horn Clubhouse and open to the public.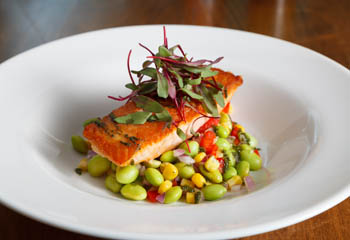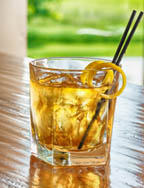 Hours of Operation
Wednesdays thru Saturdays:
Bar opens at 4 p.m.
Dinner - 5 p.m. to 8 p.m.
Offering our ever-popular Pasta Night every Wednesday evening with unlimited pasta, sauces, salad and more. $18 per person for Members and $20 for public guests. Prime Rib Night - Saturday
Click for: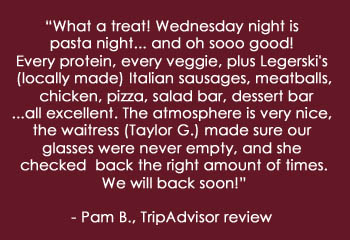 Dinner Menu

Dessert Menu

Kids Menu
During the Golf Season: Open for lunch and dinner Tuesdays through Saturdays, from 11 a.m. to 9 p.m. when the golf course is open. Please call ahead 307-673-4800 for reservations.
Other dining options at The Powder Horn include:
Cowboy Bar - Open seven days a week during the golf season.
Turn Grill - Seasonal, outdoor grill serving burgers and open 2 days a week - Sunday and Monday - during peak golf season.
Pool House Grill - For members only. Open during the summer season from 11 a.m. to 7 p.m.
For reservations call 307-673-4800, ext. 1.
Group and banquet facilities also available - contact Nancy Glazer at nancy@thepowderhorn.com
Clubhouse clubhouse@thepowderhorn.com