Tennis
Tennis at The Powder Horn Club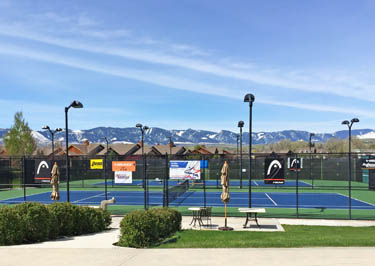 The Powder Horn Club has two premium tennis courts adjacent to the pool house. The courts are surfaced with a Nova Pro Bounce surface that reduces wear and tear on joints, shoes and tennis balls. The Tennis courts are private and available for our Club Members and their guests. Members, if you would like to schedule tennis lessons, please contact Tennis Pro Huntley McNab at
(314) 302-5078 or email Huntley at m101bay@sbcglobal.net
New to Powder Horn Tennis! Racquet stringing is now available. Please contact Huntley directly to arrange.
Tennis is included in most of our club membership categories. The courts may be booked up to three days in advance. A $5.00 guest fee will be charged for guests playing with members.
Click Here for Tennis Clinics 2018
Tennis Clinics
Junior Tennis Programs:
Quick Start: (Ages 4 – 6): $20.00 / person per clinic.
Beginners: (Ages 7 – 12): $25.00 / person per clinic.
Intermediates: (Ages 13+): $25.00 / person per clinic.
High School Level Clinic: (90 minutes)
$25.00 / person per clinic.
Note: All junior clinics are 4 weeks.
Maximum 8 players per clinic.
Adults Programs/Clinics:
Cardio Tennis: June 4 - June 27
Mondays and Wednesdays 7:30 – 8:30am
$5.00 / person per class; $40.00 for 4-Week total clinic
Adult Clinics
(Beginner, Intermediate, and Advanced)
$25.00 per person per clinic
All adult clinics runs for 90 minutes
for 5 weeks.
Maximum 8 players per clinic